Overview
eTaskBoard is an online software application that manages a task-based relationship between workers and employers (actually contractors). The software is a collection of modules, many available as stand-alone software.
The diagram below shows how the modules interact. The thick lines show the relationship between software modules, and the thin lines the relationship between people. You can move your mouse over a module for a quick definition, or click on it for a more complete description.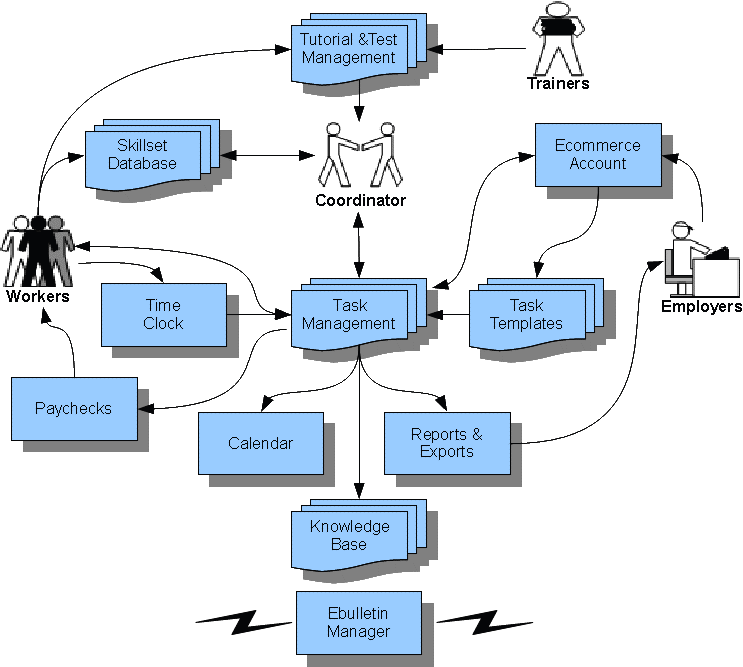 The process flow for workers is:
Provide information for Skillset Database, and optionally to Test Manager
Get work availability inquiry from Coordinator, and possibly a task referral
Accept a task
Get authorization from employer (contractor) to do the task
Complete the task, optionally using the Time Clock
Task fee added to worker's account
Receive monthly payments for all tasks completed
The process flow for employers is:
Open an account with a refundable deposit to pay future tasks
Enter proposed task or use task templates for repetitive tasks
If desired, enter specifications, background info, project info, etc. into knowledge base to support tasks
Receive worker candidates from Coordinator
Accept (or reject) candidates 5.)
Get notified of task acceptance from candidate
Authorize task via online form
Accept work product of completed task
Fee to pay task removed from deposit account
Get cumulative reports of all tasks assigned
The process flow for trainers and teachers is:
Review reports of tasks being posted to see which skillsets are in demand
Train to match skillsets in demand
Guide students to best present themselves in Skillset Database
Develop tests for the Test Manager
Get task performance feedback on students
The process flow for the Coordinator(s) is:
Establish and monitor skillsets needed that can be delivered via the eTaskBoard
Promote to workers (and employment support organizations) to signup into the Skillset Database
Promote employers (contractors) to submit tasks
Match workers to tasks and employers to workers
Educate eTaskBoard users
Suggest eTaskBoard automation opportunities
Note that a Coordinator is often a specialist within a market segment, such as language translation, software development, research report writing, etc. The Coordinator will deal with workers and employers within that specialty, and modify the above process flow as needed.